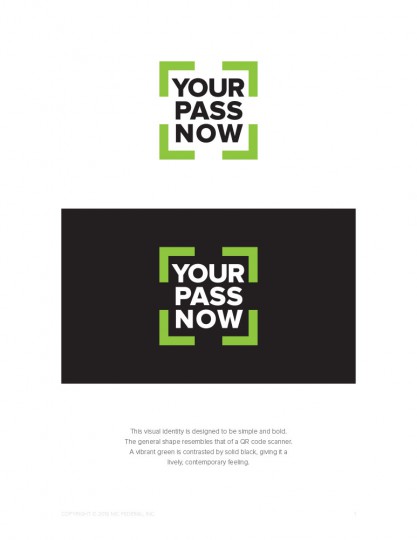 They tapped me to design a visual identity for a new online park pass application NIC Federal was piloting in Acadia National Park. I had designed an initial logotype and mark, but after some internal discussion the original name could not be used. The concept was strong, though, so we kept it and used a the new name of Your Pass Now.
This visual identity is designed to be simple and bold. The general shape resembles that of a QR code scanner. A vibrant green is contrasted by solid black, giving it a lively, contemporary feeling.
The pass itself is pretty cool, too. They use QR codes and we developed a native mobile app for park rangers to validate the passes. In the event that no connectivity was available, a manual process was designed to validate the pass using various data fields to help prevent fraud.
This was a fun project and I applaud my team members on the NIC Federal team for delivering such a cool service in such a tight timeline. Now head over to NPS.gov and purchase an online park pass before your next visit!